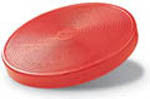 Deluxe Wobble Board
Unlike standard wobble boards, the Deluxe Wobble Board provides circular grooves on the surface for grip and stability. It also has an added advantage of having a slight convex gradient for extra support as well as rounded edges allowing it to be safely used with your hands for floor work. The Deluxe Wobble Board is a highly durable, one piece item. It is extremely strong and hard wearing, with the capacity to hold over 500kg.
Ideal for use in rehabilitation, strengthening, pilates and stability work. Excellent for helping people with a bad back.
40 cm diameter.
Available in red only.
---
We Also Recommend