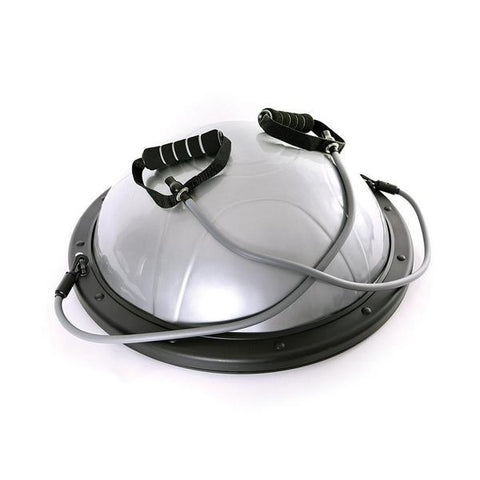 66FIT BALANCE/CORE TRAINER
66FIT BALANCE/CORE TRAINER
Target multiple fitness areas at home!
The 66fit Dome Trainer is a unique core stability, proprioception and general fitness training aid which allows you to integrate multiple areas of fitness into your regime in the comfort of your own home.
Use it to target balance, coordination, stability strength and agility. The Air Dome Balance Trainer is particularly effective for core abdominals and for general body toning.
Why Choose the 66fit Inflatable Balance Trainer?
Manufactured to a high standard the 66fit Inflatable Air Dome is a versatile, easy-to-assemble product designed with practicality, versatility and easy storage in mind.
The 66fit Air Dome is a clever combination of a wobble (balance) board and a gym (swiss) ball. Measuring 60cm in diameter the dome has an approximate inflated height of 25cm. A sturdy anti-slip base provides a stable non-slip surface during use. Simply switch between the stable side to the domed side to increase the level of difficulty.
Suitable for beginner to professional users the 66fit Air Dome Balance Trainer integrates balance, coordination, flexibility, core strength and agility, general fitness and rehabilitation.
Includes free downloadable balance training ebook with exercise videos available from the manufacturer's website
The colour box features instructional graphics to show how to operate the Air Dome Balance Trainer.
Features
The 66fit Air Dome Balance Trainer is designed to target multiple areas of fitness such as endurance, balance and stability training.
The unique design of the Air Dome Trainer allows the user to simply switch between the stable non-slip side and the inflated dome-shaped side to increase the difficulty of their workout.
The 66fit Air Balance Trainer comes complete with two easy to attach toning tubes with handles. Pump also included.
Use as part of your established fitness training programme or as a unique training device in the comfort of your own home.
Recommended for use from Beginner through to Professional level.
Includes free downloadable balance training ebook with exercise videos available from the manufacturer's website
Specification
Colour: Silver/ Black
Contents: 1x air dome 1x base 2x tubing with handles 1x pump
Downloadable: Free Balance Training Ebook
Dimensions: 60cm Diameter approx. 25cm Height when inflated  
Materials: PVC /DPHP
Presented In: Colour Box
Packed Weight: 6kg
---
We Also Recommend