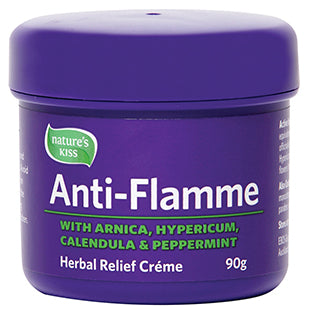 Anti-Flamme 90g
Nature's Kiss.
Anti-Flamme, with arnica, nypericum, calendula & pepperment.
Anti-Flamme Herbal Creme soothes strained muscles, joint aches, bumps, bruises and common sports injuries.
Anti-Flamme contains natural ingredients and is used and recommended by NZ Physiotherapists. Take a liberal amount and rub lovingly!
Developed in New Zealand nearly 20 years ago Anti Flamme is the fast acting herbal crème that really works!
---
We Also Recommend